Perla Amaro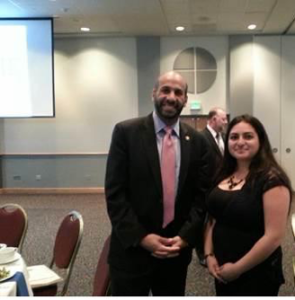 Peer Leader Perla Amaro was honored as Associate AHSIE Scholar at the 7th Annual Alliance of Hispanic Serving Institution Educators (AHSIE) conference, held at the University of the Incarnate Word in San Antonio, Texas from March 8-11, 2015. Ms. Amaro, who leads PLTL Workshops in Biology at San Jose City College, California, since the Spring 2013 semester, was one of three recipients honored , winning the "Seed to Tree Scholarship" at the AHSIE Best Practices Conference.
Marco A. Davis, Deputy Director of the White House Initiative on Educational Excellence for Hispanics, presented the scholarship awards, in recognition of academic achievement and leadership.
Ms. Amaro also led a 75-minute workshop, "Peer-Led Team Learning: Students as Effective Facilitators of Learning," which was co-presented with Robert Gutierrez, Metas Program Director, Dr. Jose Cabrera, Chemistry Instructor, and Dr.  Madeline Adamczeski, Chemistry Instructor and PLTL Program Coordinator, all at San Jose City College. The interactive presentation was one of the most popular "Best Practices" workshop at the conference.
For  a description of this prestigious national award, Ms. Amaro's biographical sketch (p.19), and description of the presentation (p.18), please see  the conference program at: http://www.ahsie.org/wp-content/uploads/2015/03/AHSIE_Program3_3_5_2015.pdf. For more information on AHSIE can be found at http://www.ahsie.org/