Joseph G. Griswold, III
(1943-2017)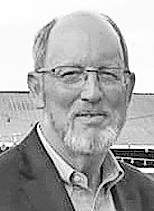 Joseph G. Griswold, III, 74, of Brigantine, NJ, passed away on Saturday, December 30, 2017. Dr. Griswold was Professor of Biology at the City College of the City University of New York from 1971 to 2002 and instrumental in promoting Peer-Led Team Learning.
With Michael Gaines of the University of Miami, he worked to disseminate Peer-Led Team Learning to the discipline of Biology, expanding beyond the initial discipline of Chemistry (see history of PLTL). The first meeting of biologists was held in January 2001 at the University of Miami (Coral Gables, Florida) to discuss the development of biology modules: what were the fundamental topics that Introductory Biology should cover, when the field encompasses microbiologist and zoologists, each with a particular view of the natural world. The outcome of the group's effort was published as a special issue of Progressions, the newsletter of the PLTL Project, available at http://pltlis.org/resources/modules/introductory-biology/
Born in Grand Rapids, Michigan, Joseph Griswold received his bachelor's degree from Denison University and his master's and doctorate from the Pennsylvania State University. He was also Past President of the Human Anatomy and Physiology Society (HAPS). He supported Peer Leaders' attendance at the HAPS meetings, the first time students had attended, with great impact as noted by Marven Lamarre and Ida Thomas
After retiring, he helped to found Real Partners Uganda (http://www.realpartnersuganda.org), which supports a school for orphan and vulnerable children in Lukaya, Uganda, East Africa.
With fond remembrance, Kim Van Vliet, Ph.D., one of the co-authors of the Introductory Biology modules, writes:It is with great sadness to report that Joe Griswold, one of the co-PI's on the Peer-Led Team Learning (PLTL) Dissemination Grant, has passed away. Joe was passionate about Biology and training future Biologists. I first got to know Joe at a PLTL workshop held at the University of Miami. The purpose of the workshop was to establish writing teams for different topics in Biology to be used for PLTL workshops for students across the country. Schools would adopt the PLTL model as a way to improve student understanding of Biology and student success rates. Students who had previously completed Biology courses would then run workshops and teach the new students the next year what they had learned. These PLTL leaders also served as an example for new students – if I could do it, you can do it too – and Joe was all about setting a good example and setting the bar high.
The next phase of the project once the workshops were developed was dissemination – spreading the model to as many colleges and universities that would be willing to use the workshops with their students. Joe traveled with a team to meetings and workshops all over the country to describe the PLTL model and ways to implement it at various colleges and universities. He described how they implemented the workshops at the City College of New York with his students. He was instrumental in helping to identify potential issues to implementation at various colleges and provided suggestions as to how to work around these. This phase of the project developed an impressive network of talented biologists (and quite a few chemists), and Joe was the glue that held us all together.
He was a great mentor, friend and an incredible human being. At one workshop at City College, we had finished the evening program, and it was just about time to leave, when one of the students asked how we were going to head home, if we drove, or what our plans were. Someone in the group said, no, we'll just call a cab. Joe was standing nearby and realized that the cabs were hard to find so far "uptown" in the evening and walked with us to the subway since our hotel was near the one where he was staying. On the way there, a big New York City rat scurried past us – a group of biologists. I knew everyone saw it even though it was a dark night, but everyone was quiet, and jokingly I said – "Oh my gosh, did you see the size of that squirrel!" First Joe said – "That's not a squirrel, that's a New York City rat!" Then Joe proceeded to tell the group all about the great New York City rat and all of its features and attributes. As usual I was amazed with all of Joe's knowledge of Biology and I said "Really?" and a big smile came across his face and he said "Nah – I made all that stuff up! They're just big because they eat a lot!" I really enjoyed seeing him smile, and he was the last person you would expect would joke around because when he was working he was always so serious. Joe's work with PLTL, his work at City College, and his work during retirement – in Uganda with The Mustard Seed helping children who were orphaned, many because their parents died from AIDS, helping the community build schools to ensure the children would get an education – all of these activities give you just a snapshot of what an extraordinary person Joe Griswold was and the lives he touched.
A memorial service will be held to celebrate the life of a great man on January 27, 2018 at:
Community Presbyterian Church
1501 W. Brigantine Ave.
Brigantine, NJ 08203
Visitation will be from 10 a.m. until noon (in the church, the fellowship hall is being renovated).
Service at noon. Lunch following the service at Laguna Grill (2 blocks from the church), 1400 Ocean Ave, Brigantine, NJ 08203 Everyone is welcome. Joe loved a good party and the hope is that this will be one that would really please him. There will be a time for sharing brief remembrances—for those who wish.
Blocks of rooms have been set aside at a group rate at the Holiday Inn Express in Absecon. https://www.ihg.com/…/…/abcnj/hoteldetail/events-facilities…& 
The group code is GFB. Rooms will be held until Jan. 17.
For more information, see http://obits.nj.com/obituaries/trenton/obituary.aspx?n=joseph-griswold&pid=187764775&fhid=38909