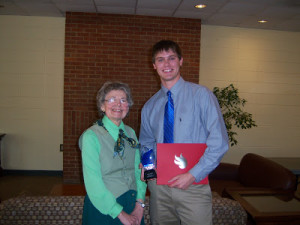 A committee of faculty, staff and a student representative selected Kimbrell from among 16 nominees. The nominees were nominated this year from departments across campus — from the Townsend Center to Campus Police to the Nursing Department. The selection process consisted of nomination letters submitted by the students' supervisors. The committee interviewed all candidates.
The Student Employee of the Year Award is given every academic year to a student who has documented outstanding reliability, quality of work, initiative, attitude, professionalism and uniqueness of contribution. Kimbrell is currently working as a super-workshop leader for the Chemistry Department. He has been a part of the department for the past two years and this semester is serving two different workshops, one for Dr. Timothy Ayers' CHEM 1211 and the other for Dr. Anne Gaquere Parker's CHEM 1152.
As a "super-leader" Kimbrell is responsible for other workshop leaders in both courses. He meets with not only his proud supervisor, Lucille Garmon, on a constant basis, but also meets with other instructors, workshop leaders and students.
Garmon, professor emeritus and workshop coordinator, reported that 100% of the students in his workshops last fall agreed (87% strongly agreed) that they would recommend him as a leader to other students.
Besides representing the Chemistry Department on a local level among students and faculty, last summer Kimbrell presented his philosophies and experience as a workshop leader at a national conference. It goes without saying that Kimbrell has made an impact on the Chemistry Department and the student body that passes through. "Without the work of super-leaders like Brett, the peer-led workshop program at the Department of Chemistry could not continue," Garmon said.
Student Employment congratulates Jacob Brett Kimbrell for the impression he has made during his term of employment and honors him as the 2010-2011 Student Employee of the Year. Kimbrell was named at luncheon in March.
Brett Kimbrell presented at the 2012 PLTLIS Conference on "Peer-Led Team Learning at the University of West Georgia" with colleagues Dusty D.Otwell,  Shastina L. Oglesbee, and Brenton A. Bishop.