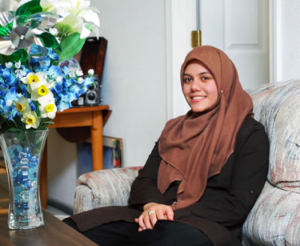 Narges Kalantarian was chosen to represent the University of Texas at El Paso (UTEP) as the Undergraduate Banner Bearer at the 2012 Spring Commencement ceremony. Narges graduated with a major in biomedical sciences and a minor in chemistry, holding a 4.0 GPA. While at UTEP, she was involved in many activities, both volunteer and honors. She was first immersed in the Peer Led Team Learning Program as a peer leader in her sophomore year and continued to teach and support the program as one of the best educational programs at UTEP, both as a student and a peer leader, all the way through her senior year. She credits many of her professors, including but not limited to Mary Wells, Dr. James Becvar, Dr. Bonnie Gunn, and Dr. Mahesh Narayan, as her inspiration with extraordinary mentoring during her time at UTEP.
She is the first author of a paper presented at the 2012 PLTLIS Conference, "Enhancement of Public Speaking Paved through Peer-Led Team Learning."
Narges' active engagement in the Honors Program attained her University Honors Program Ambassador. Among the many scholarships she received are the Houston Endowment Scholarship Awards and the American Association of University Women Scholarship. She conducted biomedical research at UNTHSC where her research was undertaking the very first steps scientists were attempting to cure brain cancer via vaccination. There she also served as the Vice President of the McNair/SMART Student Association.
She participated in the first Paul L. Foster School of Medicine health fair, Socorro High School Public Hea­­­lth Fair, attended a summer internship at Baylor College of Medicine, gained hands-on medical experiences shadowing Dr. Nancy L. Glass at the Texas Children's Hospital in Houston, presented in the Annual Biomedical Research Conference for Minority Students, and at the American Chemical Society Southwest Region meeting. She served as an officer in the Medical Professions Organization for two years. In addition, Narges volunteered at the Baptist Clinic as a translator and pharmacy assistant and was a Club Latinitas mentor.